You don't need for a tree to fall on your roof before you seek for an emergency assistance for the repair of your roof. Whenever there is too much rainfall and the winds are very strong, these can cause a great damage to the roof. In case something like this occurs, you would need to seek the assistance of a professional that would be highly capable of handling this as soon as possible. Every time the damage on the roof gets left without any treatment, the condition of the roof may eventually deteriorate. This could eventually lead to significant problems in mold and water over time.
Signs that there is a need to have the roof repaired immediately after any storm:
The Roof has a lot of Debris
It is possible for strong winds to blow limbs onto the roof which could eventually lead to significant damage. Whenever this occurs, it is important to ask for assistance from a professional in order for the damage to get inspected and for the debris to get removed immediately. Aside from damaging the roof, the debris may eventually fly off and injure a person or have a window destroyed.
There are Torn Off Shingles on the Roof
Whenever the wind is too strong, it may eventually make the shingles rip out from the roof. Whenever a storm occurred and you see that some of the shingles are missing, you need to make sure that the roof gets checked by a roofer immediately. Every time your home has missing shingles, it may allow leaks to get inside the home. This could eventually lead to damage that may need a high price for repair.
Damages Around the Flashing
Whenever the winds get too heavy and strong, they may end up tearing and ripping the flashing that is found around the eaves, skylights, and chimneys. It is essential to have this kind of damage repaired as quickly as possible for it may allow the moisture to get inside the home and eventually make it deteriorate.
Nails that are Destroyed, Missing or Loose
Even if the nails may be small, they are an important part of the roof. In case they get lost, you need to have them replaced as soon as you can. Nails that are missing may eventually open up small holes that could end up creating leaks which could significantly damage your home.
Areas that Appear Sagging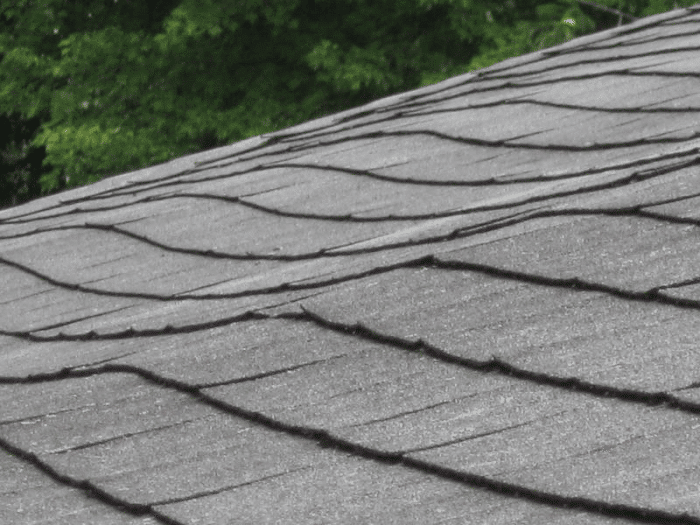 Whenever a major storm occurs, we advise that you check out the roof if there are sagging areas. Whenever the roof sags, it is a sign that the underlying materials got waterlogged. This kind of damage from the water may eventually lead to problems in the structure so it needs to get assessed by a professional as soon as possible.
Gutters that are Clogged
Whenever the clogged gutters have dry leaves, it may be easy to fix it and you can easily handle this on your own. However, in case the storm blew heavy and wet leaves into the gutters, you will have to seek assistance from a professional that can clean it well. Wet and thick leaves can be so heavy that it may cause excessive harm or damage and make the gutters rip away fro the home.
Things You Need to Do If Your Home Needs a Repair Immediately
After you determine that your roof was able to suffer damages, make sure to seek help from a professional. You may also seek assistance from your insurance carrier so they will get notified that you may need to file a claim. Having a good roofing company that can work with any major insurance carrier can provide you assistance in navigating the process of claims.
All of the residential and commercial properties have roofing requirements that may be different from each other. We have highly skilled contractors who have great expertise and significant experience in addressing this. Our company provides every job with free estimates and we always make sure to use the newest technology when it comes to roofing installation, repairs, and replacement. Moreover, since we are extremely careful and provide professional care to each work site, we treat every home as our own and we guarantee to provide the best quality of service in every step of the process of repair. Whenever the roof gets damaged because of unexpected weather, allow use to become your first choice.
Roofer's Elite LLC is Cumberland County's premier company that specializes in residential roofing services. We are dedicated to provide excellent customer service that is second to none. Our team of professional, skilled roofers can perform a variety of roofing services like no other company. Whatever services you might require, our diverse company will help you achieve your ambitions without any hesitation. Whenever you are thinking of servicing, maintaining, or re-installing your roof, make sure to contact us.