The EPDM single ply membrane or rubber roofing is among the most common systems of flat roofs in the United States. People often refer to this as a rubber roof or flat roof. The reason why rubber roofs are highly popular is because of it has a significantly low initial price tag. Despite that, there may be a lot of inherent problems when it comes to rubber roofing that technology may not be capable of solving because of its design.
Things People Need to be Aware of Rubber Roofing:
Repair of Rubber Roofs
For people that own homes with a flat roof usually experience a situation wherein their roof begins to leak quite unexpectedly even if it got installed for just several years. This usually happens to homes with rubber roofs. Flat roofs can only last for a decade or fifteen years if they are made with Modified bitumen, BUR (built-up, and Tar & Gravel.
Roofing contractors that work on the installation of these kind of roofs are often highly specialized in this field. They are often union guys and old-timers that were able to undergo special training and has numerous years of experience.
Incorrect Installation of an EPDM Roof: Rubber that is Glued over the Shingles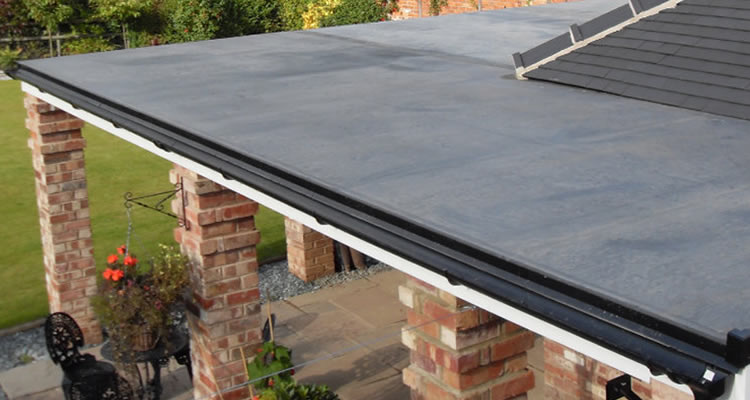 A significant percentage of rubber roofs underwent repair and installation by roofers that were not able to undergo training or have special knowledge about rubber roofing. These people just take on the job of installing and repairing EPDM roofs because they appear easy to do, do not require special or expensive equipment, and appear quite easy to do.
In case you have a rubber roof that is leaking, our company can provide you with a roofing price quote that can have the roof replaced with any material. We can also have your rubber roof repaired at a minimal cost with the use of the highly recommended rubber materials that exists in the market so that the life of your roof will become extended by several years. We utilize seam and flashing tapes that allow the EPDM roof to peel-and-stick instead of the outdated black rubber glue because it can cause leaks so much faster.
The Reason for the Popularity of Rubber Roofs
A lot of the flat roofs in the commercial roofing market of the US and Canada utilize EPDM or rubber roofs. These initially became available more than four decades ago and it eventually became popular among various roofing contractors as well as their customers. This kind of roofing became successful because of the flat roofing market's condition as well as the alternatives that are available as of the moment.
The Rubber Roof
In the 1960's when oil was still quite affordable and more than a decade before the occurrence of the oil crisis in the 1970's, there was not much demand for oil. Since the process of refining oil was not that efficient, the industry only wanted to get rid of a lot of the oil refining process' by-products.
During this time, the industry for flat roofs commonly used the BUR roof which has added gravel for an added protection. The technology for flat roofing was not able to change for around a century. Now that the contractors need to have a product that is cleaner, new, and easier to install, the system for EPDM rubber roofing was eventually born.
EPDM is mainly composed of by-products that are oil-based that includes some stabilizers and modifiers. These are added so that its service life will extend. Rubber roofing has been advantageous because it can be easier to have them installed in comparison to the conventional BUR roofs, quite affordable to produce, does not breakdown whenever it gets exposed to weather, is UV stable, does not need any special equipment for installation, and has the potential to last for numerous decades.
Because of the affordable price, potentially extended life of service, quick and easy installation, and the absence of any opposition from better products in roofing, EPDM eventually became a pioneer and the king in the single-ply market for flat roofs.
Roofer's Elite LLC is Cumberland County's premier company that specializes in residential roofing services. We are dedicated to provide excellent customer service that is second to none. Our team of professional, skilled roofers can perform a variety of roofing services like no other company. Whatever services you might require, our diverse company will help you achieve your ambitions without any hesitation. Whenever you are thinking of servicing, maintaining, or re-installing your roof, make sure to contact us.